Book Review: The Land of Debris and the Home of Alfredo by Kenn Amdahl
Rating:
Publisher:
Clearwater Publishing Company
Author:
Kenn Amdahl
Category:
Fiction, Humor, Amnesia
Price (MSRP):
$14.00
Purchase:
Disclosure: I received a review copy of this novel. Although this had no effect on my review, I still wanted to establish this fact upfront.
How valuable are memories when they go missing, and at what lengths would you go to find them? In Kenn Amdahl's "The Land of Debris and the Home of Alfredo," you are thrown into the life of a man with no memory, while draped in a delusional world of self-discovery.
Not content to learn of his past through safe, conventional means, the main character nomadically travels the country, adopting and establishing personas as he sees fit. Each stop along his journey introduces trials that may or may not unlock his memories, but nonetheless forces him to use newly discovered skills from a past life. Along the way he meets interesting people while attempting to piece together his past.
Kenn has done a wonderful job painting an intriguing story of self-discovery in his unique and quirky style. Through colorful language, and in many cases insane scenarios, the book takes you on an exciting ride through worlds you may never discover in real life. Whether it's living like a rock star or being imprisoned in the dark side of Vegas, not a boring page can be found.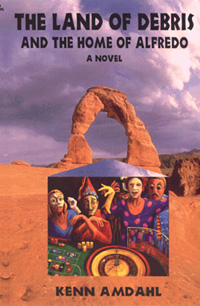 Clearwater Publishing Company
With all of its positive attributes, you may be wondering if I found anything lacking. While I loved the length of the chapters, I found some of the transitions between them to be a little vague. Kenn may have intended this to help throw you deeper into the main character's world, but I still found myself flipping back a page to see if I missed anything. And while I am on the topic of chapters, I was surprised to find them without given names. Although I cannot hold the latter fact against the book, it was something that I at first thought was a copy error.
I also found it interesting that this was the first novel to be published on paper made from kenaf, a bamboo-like annual plant grown in Mississippi. As quoted on the back of the book, this results in paper that is "100% tree-free, acid-free, chlorine-free, recyclable, and made in the United States."
If you are looking for your next literary adventure, one with mystery and suspense wrapped in a quirky delusion, I would recommend picking up a copy of "The Land of Debris and the Home of Alfredo."